日期: 10月28號
時間: 7-8 pm (EST)
語言: 中文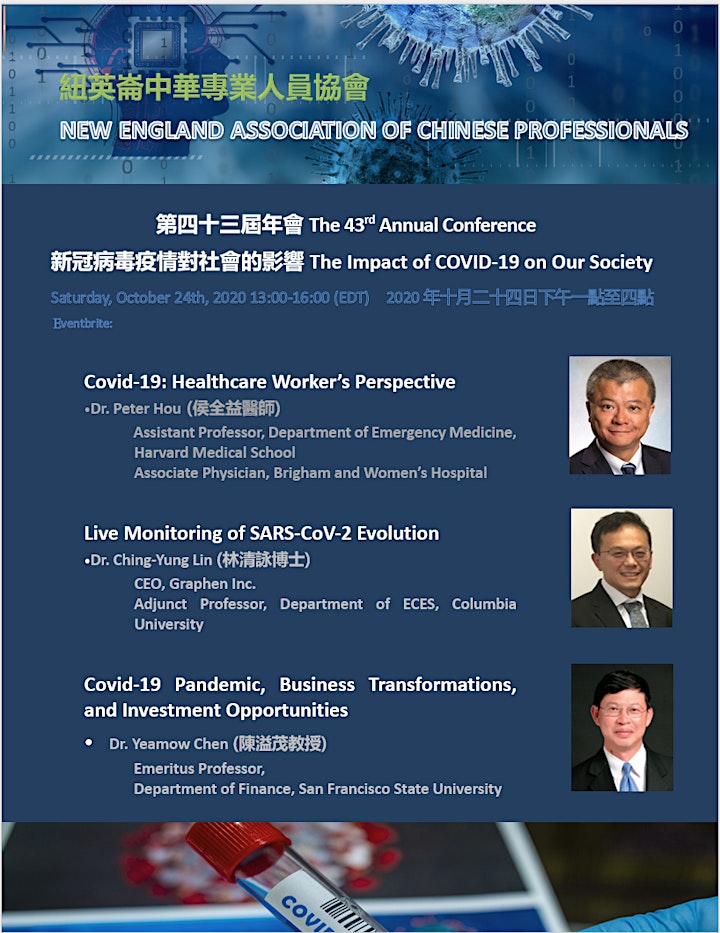 專協第四十三屆年會將於 10/24 (星期六) 首次在線上舉行,年會的主題是新冠病毒疫情對社會影響 ,希望大家踴躍參加盡早報名,詳情如下。
For the first time, NEACP annual meeting will be held virtually. Join us at the 43rd Annual Conference on 10/24(Saturday) and discuss this year's topic: The Impact of COVID-19 on Our Society. More details below.
時間: 2020年十月二十四日下午一點至四點
Time: Saturday, October 24th, 2020 13:00-16:00 (EDT)
主題: 新冠病毒疫情對社會影響
Topic: The Impact of COVID-19 on Our Society
請至此連結註冊
Please register in this link.
演講人及演講主題簡介(詳情請點連結):
Covid-19: Healthcare Worker's Perspective by Dr. Peter Hou (侯全益醫生)
Live Monitoring of SARS-CoV-2 Evolution by Dr. Ching-Yung Lin (林清詠博士)
Covid-19 Pandemic, business Transformations, and Investment Opportunities by Dr. Yeamow Chen (陳溢茂教授)
We are working with Taiwan Film Festival on their Boston Taiwanese Fighting Covid-19 initiative. Below are two ways you can get involved and help us bring more positive impact on our society.
Please join our fundraising event to purchase cloth masks and face shields to donate to hospitals, nursing homes, MBTA workers, and police officers in the Greater Boston area!!! The fundraising campaign hopes to alleviate the shortage in personal protective equipment among high-risk workers.
FUNDRAISING GOAL: $15,000 for Phases I & II
[Phase I] Cloth masks made locally and imported from Taiwan
Washable cloth masks can be used in combination with surgical
masks to prolong their lifespan.
[Phase II] TBA (searching for certificated surgical masks and other PPE)
[Phase III] TBA (searching for certificated N95 respirators)
All the donation will be used to fund the initiatives listed above. We will sign the waiver with the recipients on behalf of donors. Please email taiwanfilmfestival.boston@gmail.com for any question or concern.
Any donation amount will be greatly appreciated! Please click here to donate.
As of today, the task force has handmade and donated over 8000 fabric masks to local hospitals, nursing homes, police stations and many other essential workers. But the demand is increasing. So we're looking for more volunteers to help us produce the supplies more efficiently.
Volunteers can all work on their own time and determine their work pace for the task they're assigned to. There is no pressure on how many hours you need to commit and you can definitely continue your work-from-home lifestyle. You can either help cutting fabric to the desired dimensions so our sewing team can produce the supplies faster, contactlessly delivering materials between volunteers on the way of your grocery shopping, or reach out to local organizations to check in with their demands through email or phone call.
If you're interested in joining us and helping essential workers get us through this difficult time, please register your interest in the form.
You can also find detailed instructions of each task force team on the form. We can't wait to welcome you on board and make an impact together!
---
Hosting Organization
Co-host Organizations
Taipei Economic & Cultural Office in Boston (TECO-Boston)
駐波士頓台北經濟文化辦事處
Taiwanese American Professionals, Boston Chapter (TAP-Boston)
Ministry of Science and Technology (MOST)
中華民國(台灣)科技部
Science & Technology Division, TECO-Boston
駐波士頓台北經濟文化辦事處科技組
New England Association of Chinese Professionals (NEACP)
紐英崙中華專業人員協會
New England Hakka Association (NE Hakka)
紐英倫客家鄉親會
Taiwanese Association of America Boston Chapter (TAA Boston)
波士頓台灣同鄉會
Taiwanese Family Organization